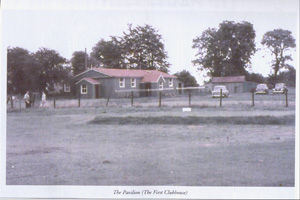 Royal Tara Golf Club, situated just two kilometres off the M3 motorway just seven kilometres south of Navan.
It celebrated the Centenary of its foundation in 2006.
Benefitting from a 27-hole, three-lined, layout, it offers a haven of peace for member and visitor alike. The mature beech, oak and ash trees, combined with the addition of vibrant floral colours, give an aura of beauty and tranquillity and a real test of golf.
The History of the Club, compiled to mark the 2006 Centenary celebrations, has a foreword by Padraig Harrington who talks about his victory in the Leinster Boys' Championship in 1988 at Royal Tara, as being his first "major", and how that experience instilled him with confidence for his future in both Amateur and Professional golf.
Situated just beneath the storied Hill of Tara, the Club started life as Navan Golf Club, just 5 kilometres from its current home, in 1906. Possessing only a leasehold interest in the lands, the search for a more commanding amenity brought it to the magnificent lands of the Bellinter Estate in 1923, the site of its current amenity, and the name changed to Bellinter Park Golf Club.
It was not until the mid-60s that a new band of forward thinking and inspired members were bold and brave enough to expand the potential of this unique site by acquiring a freehold amenity over the lands and moving to expand the facility to 18 holes and build a new Clubhouse.
With those arrangements financed and in place, the name of the club was changed to Royal Tara Golf Club to give its location an instantly recognisable geographical location. The club spent the next 25 years consolidating its position as one of the true gems of Irish inland golf and built on this further in 1990 with the expansion to its current magnificant 27 hole facility. The outstanding re-development of the course by Des Smyth and Declan Branigan features sand-based greens for all-year-round playing.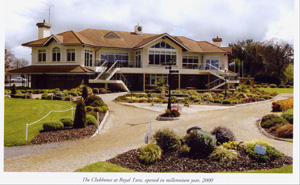 New clubhouseThe expanded 27-hole course led to greatly increased membership and in the late 1990s a decision was taken to construct a new purpose-built Clubhouse to provide all facilities which modern day golfers expects of their Club. Royal Tara's Clubhouse is one of the country's finest ever private club complexes offering superb facilities and a warm welcome to member and visitor alike.
"Welcome to Tara. Tara of the welcomes."