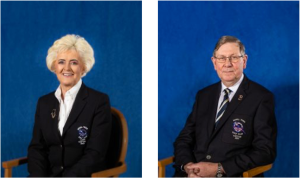 It is with pride and honour that we take on the role as Club Captains for 2023. We appreciate all your good wishes and support for this coming year. Our focus and resolve will be do everything we can to ensure you have an enjoyable golfing year.
Our thanks to our outgoing Captains Bob and Regina for all their assistance, courtesy and leadership in 2022 and having a very successful year.
We are privileged to be Captains for this year as we celebrate the Centenary Year of Royal Tara Golf Club in its current location and winner of Best Parkland Course in Leinster awarded by The Golfers Guide to Ireland 2023. So, we have lots to celebrate.
We are a successful and well operated club because of our long-established track record in dedicated and committed volunteering.
Many organisations are currently facing significant challenges in attracting, recruiting and retaining volunteers. Royal Tara GC is no different and we need to be mindful of the time and energy that volunteers contribute to our club. We are all part of the one club and team, striving for our progression and betterment.
We are very fortunate to have our hard-working members that give of their time, energy and expertise in serving on committees to ensure the club runs smoothly year on year. Our club and facilities are the envy of many of our neighbouring and visiting clubs alike.
We are also very fortunate to have loyal and proud members and we extend a warm welcome to our new members joining this year.
We are confident that 2023 will be an exciting and positive year for the club and one we look forward to on and off the course.
We wish our Team Managers every success as they represent our club and thank the players and supporters for all their dedication.
We look forward to meeting you all and wish all our members a great golfing year in 2023.
Yours Captains,
Michael Killeen and Jean Smyth